As I started writing this article I was unaware that I was about to be confronted by the sad news that my brother had taken his own life. I continue to write this a little over twelve hours later and the words of probably the most famous Psalm in the bible becomes particularly focused to me. Most people will have heard of Psalm 23, " The Lord is my shepherd, I will not want, he gives me rest in green pastures...". It is often read at funerals or printed in cards given to people in loss or at times of need. For me, knowing Jesus, the giver of peace the words of this Psalm are truth that brings comfort. Psalm 23 also highlights what I may be feeling if I did not have that relationship with Jesus. If you take God out of the Psalm the vision of peace and security the words portray is turned on its head.
Psalm 23 when The Lord is not your shepherd.

1 The Lord is not my shepherd;

I am missing things I need.

2 I don't get to rest in green meadows, are there any?

All I see are raging torrents that threaten to sweep me away.

3 I have no strength

No-one to guide me along right paths,

so I dishonour those I know.

4 When I walk

through the darkest valley,

I am afraid,

no-one is there to be close beside me.

There is nothing to

protect and comfort me.

5 I am alone and hungry

and surrounded by my enemies.

My head longs for soothing but there is none.

I have nothing to comfort or sustain me.

6 If only someone was good to me and could love me

all the days of my life,

and I could live in comfort, peace and love

forever.
I thank God that the Lord is my Shepherd and the real version of Psalm 23 applies to me.
Psalm 23:1(NIV)

1 The Lord is my shepherd, I lack nothing.

2 He makes me lie down in green pastures,

he leads me beside quiet waters,

3 he refreshes my soul.

He guides me along the right paths

for his name's sake.

4 Even though I walk

through the darkest valley,

I will fear no evil,

for you are with me;

your rod and your staff,

they comfort me.

5 You prepare a table before me

in the presence of my enemies.

You anoint my head with oil;

my cup overflows.

6 Surely your goodness and love will follow me

all the days of my life,

and I will dwell in the house of the Lord

forever.
If this article speaks to you why not come and have a chat with us or find out more about what it's like to live with Jesus at https://greatcommission.co.uk/category/watch/changed-lives where you can hear ordinary people talk about their extraordinary lives or why not ask a question at Looking for God. Want to ask a question of a real person, come and see us at the Vine or try https://chatnow.org.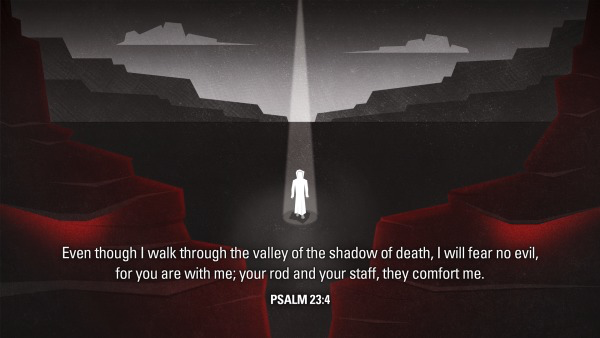 Darren